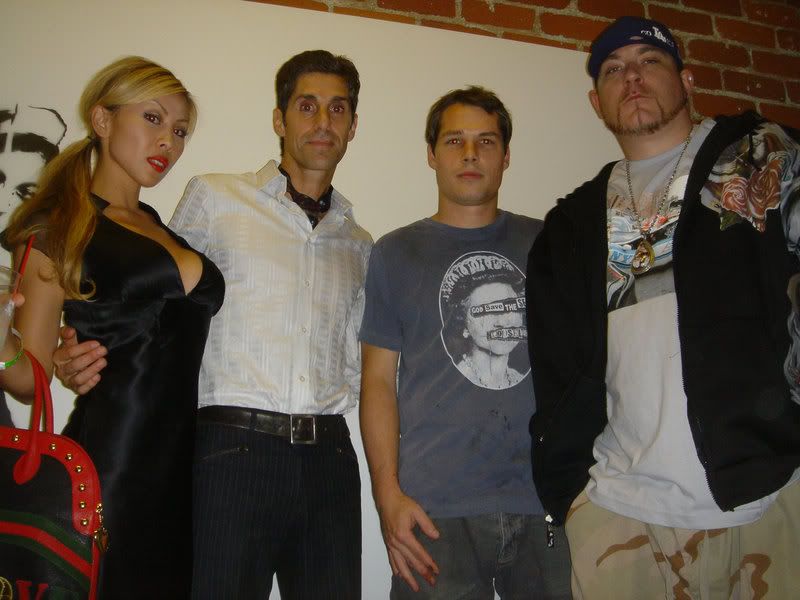 Here's a photo of Perry Farrell and his wife, Etty, Shepard Fairley (the OBEY guy) and Don Everlast taken at
Banksy's
Los Angeles
art launch
.
What's with Perry Farrell's wife?
As a longtime lapsed Janes Addiction fan, I wasn't aware of this Etty lady. She looks extraordinary.
I had to find out more about the disturbing lookin' bombshell.
There's an
interview
with her at the Janes Addiction website.
Here's the best bits.
"Of all dance forms, I am most passionate about ballet. My favorite ballet is Swan Lake. Perry and I are in love with dancing The Tango, and Rhumba. Both dances are pure aphrodisiac for us."





"I am the art that Perry is working on."



"He was living the "sex, drugs and rock'n'roll" lifestyle, with a girl in LA, a girl in NYC, a girl in Miami, and a lot of drugs to go with them. I was a professional dancer, doing a job, being professional. Although he started persuing me from the beginning, it wasn't something I was interested in. I remember when he tried to talk to me, I couldn't understand what was coming out of his mouth and what he was looking at. It didn't matter really, because the next day, he couldn't remember any of it anyway."

Oh Perry!